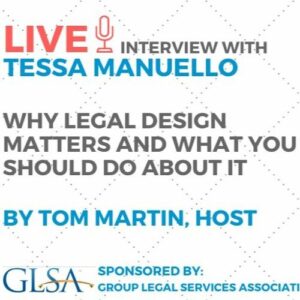 In this episode of the LawDroid podcast, Tom sits down with Tessa Manuello, founder of Legal Creatives, to discuss why legal design matters and what you should do about it.
Highlights include:
Why being a quick fish, instead of a big fish, matters
How finding a niche can help lawyers live any lifestyle they choose
What legal design really is (Hint: it isn't about lawyers or judges)
How you can embrace creativity through legal design
How using creativity can help you challenge the status quo and provide better solutions for your clients
Listen in on SoundCloud or iTunes. Don't forget to subscribe and leave a review!
Don't forget to visit our sponsor GLSA! GLSA is a professional organization for solo attorneys and small law firms providing resources to help increase business opportunities. Please visit their website to learn more or to join!